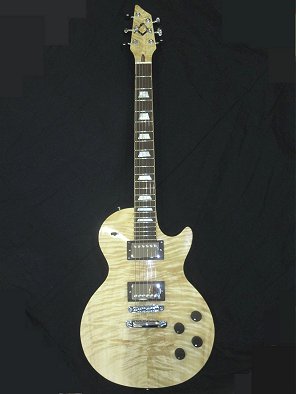 Mark first came to me enquiring about a custom Les Paul. "Ok, cool"... I could do that. But early in the conversation he said he wanted it gloss black. In responce, I told him I might not be the right guitar builder for him. I am incredibly reluctant to paint an instrument with an opaque color. I've been building guitars that showcase the intrinsic beauty of the woods, and high light each of their unique color tones and textures. Mixing painted and non painted surfaces just muddles everything to the extent that "What's real"?

I happened to be sitting near a chunk of flamed Cottonwood I had recently purchased (because it was so spectacular, rang like a bell, as well as being a member of a well respected group of tonewoods). I picked it up and ask, "would you paint this for example"? His eyes widened as his jaw dropped. That was the fastest I ever sold anyone on a guitar top. From there the vision of this guitar came together fairly quickly.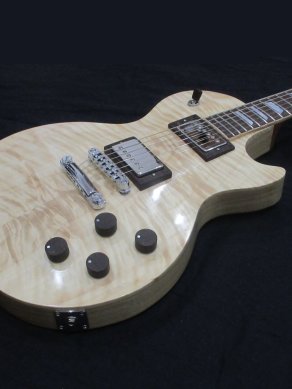 The guitar would be a totally solid, physical clone of a standard carved top Les Paul in terms of it's dimensions, but be made of different woods, with the only departure from standard being elements of the neck and headstock. The most important of these is the scarf jointed headstock construction method. This method takes more work but makes sure there is no "short grain" within the headstock, uses a double glue joint, making this arrangement much stronger that the original Gibson design (snapping the head off of a scarf joined neck is almost unheard of). I carved a volute at the headstock to neck transition for a more finished feel. The truss rod used is a dual rod double-action type, allowing for normal and even back bow correction, The head stock is the same as I have been building on almost all my 3 + 3 designs with the reversed tapper which lets the strings pass over the nut with minimal sideways stress, And finally, the heel is extended to be flush with the back of the body of the guitar, and with a slight tapper - making it feel better in the hand.

Standard carved top Les Pauls usually have a Maple top, but we used the flame Cottonwood for this one. We used flame White Limba instead of African Mahogany for the back. Limba is a tree from the same family as African Mahogany, with similar tonal qualities but just a little bit lighter in weight. The neck is African Mahogany. Les Pauls will be seen with Ebony or Rosewood fret boards. We choose Wenge - which is related to the Rosewoods, but has a very distinct look, and is a fair bit harder. I then made matching wenge pickup rings, cover plates, and knobs to pull everything together visually.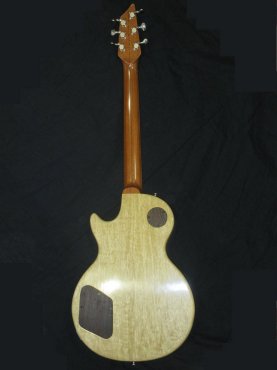 Mark went all out on the pickups, choosing hand made ThroBak brand "Maximum Vintage" humbuckers. We ordered these with the four wire set up, allowing switching for series / parallel output. This means the guitar has that increasable touch sensitivity of 50's era pickups, can go from clean to growl depending on picking attack and volume setting, plus it can completely transform to a more glassy sound almost like a single coil when switched to parallel, yet while retaining humbucking. All this is controlled via Push / Pull switching at the Tone Knob - turn it to roll off treble, pull up for parallel, or push them down for that vintage series tone. The standard three position switch together with the push / pull options gives a total of eight pickup settings. Going even further, I wired these up with the alternate routing that gives independent volume control even while both pickups are ON in the middle position - giving any blending option. Selecting both pickups ON but then partly rolling OFF one or the other, further allows shaping of the tonality of the guitar's output. Using this combination of switching retains the traditional standard look of a typical Les Paul, but makes it a Tone Monster with all the true to life vintage sound, plus a lot more.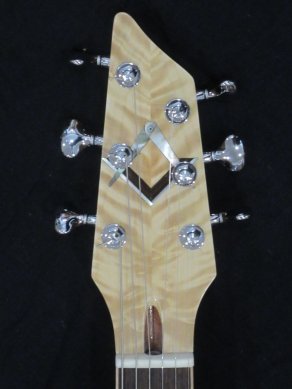 This guitar is equipped with an improved version of the Tune-o-matic bridge and tailpiece, using the TonePros System II. The parts included small set screws that are locked down after the guitar is set up, to prevent the bridge and tailpiece from falling off during string changes. This also means there is less likelihood of adversely effecting the guitars setup while re installing those parts - should they fall off.

Finally; the tuners are the Gotoh 510 model, which are top of the line, 21:1 tuning ratio for incredible tuning adjustment, and stability.