Guitar #054
Custom Walnut Firebird
Completed September 24, 2014
Black Walnut, Gabon Ebony.
The Firebird is a classic Gibson design. It's made of Mahogany, most often painted black or some version of a whitish colour tone, occasionally darker stained wood with an even darker sunburst. How ever, if you are a lover of wood, especially rich woods such as this beautiful piece of Canadian Black Walnut, good luck finding such a guitar from Gibson. Peter had ideas of his dream guitar and Gibson was not building it.
One of the primary concerns of any player is the feel of the neck. For this one, Peter wanted a width typical of acoustic guitars but also deeper with a "V" profile, while most Firebird necks are thin with a "U" or "shallow "C" cross section. Another major point is the body; a standard Firebird's body is rather thin but this guitar has a more common 1 7/8" center section. Then to liven things up, the this guitar body is chambered (like woodblock on a drum kit), while a standard Firebird is completely solid. The chambers also reduce weight while providing better balance. Peter also wanted this guitar understated with no bling, just 2mm mother of pearl side position marks and that's it. The sculpted Ebony pickguard (no cheep plastic here) and Ebony pickup rings, together with the black hardwear complete the look.
As for the tone... The DiMarzio DP 115 and DP 223 Humbuckers can go from warm and clean to growl just in the way you play it. Chocking the pick brings out spine tingling highs, while a palm mute turns it thick and warm. If you ask the bridge pickup, it will even give you a country twang! With the natural long sustain of the through-neck design, and the range of these pickups; it's easy to go from Blues to Jazz, to Rock, to Metal, or maybe even some new place you haven't thought of. As for exploring those new places, that's the best roll for a custom guitar if you ask me.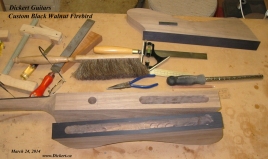 Showing the chambers during construction.