Guitar #050
Chambered Les Paul JR. - ish electric guitar.
Jarrah, Cherry, Maple, Ebony


Completed, Oct 3d, 2015
This guitar is for the more Gibson minded guitar fans, actually for one very specific Gibson leaning player, but with pickups, and wood he was impressed with, and custom inlays recalling his time served in the Canadian military.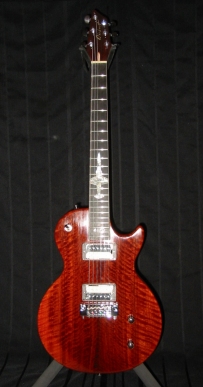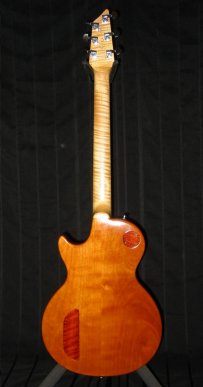 Starting with the pickups. He had played a few guitars retro fitted with Sheptone humbuckers and was blown away by their performance and tone. So Sheptone it is... But custom wired with series / parallel tone options accessed with push/pull switches on the volume pot shafts. This allows for a clean and noiseless tone while in parallel, or for that classic driven humbucker tone while operating in series. This combined with a standard three way pickup selector switch, allows for 8 tonal options.
As for the look, it's made to impress. Stunning highly flamed Jarrah (Eucalyptus marginata) from southwestern Australia, mirrored to present the flame figure with a chevron pattern. The head cap is also made of the same mirrored flame Jarrah. The back is flamed Black Cherry (Prunus serotina), an eastern North American tree. Prior to joining the drop-top and back, these parts were routed hollow leaving a center beam for the neck joint, pickups, and bridge mounting. The beam ends just behind the bridge posts. The rest of the insides were removed leaving enough wood for just a 3/8" top and back thickness, while the side are a 1/2". This opens up the sound for a more airy tone, and also make the instrument appreciably lighter, and with better balance. The neck is stunning AAA grade flamed Sugar Maple (Acer saccharum) also from eastern North America, while the fret board is pure black Gabon Ebony (Diospyros crassiflora ) from central Africa. Then for added effect and punch it to the stratosphere, the tuner buttons, the pickup rings, and the volume knobs are all Ebony.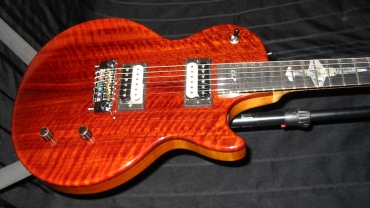 The Abalone inlays on the fret board are an image of the Royal Canadian Air Force CF-104 Starfighter and "ESPO" (his call sign while on military maneuvers). The top of the fret board is otherwise bare with no position marks. The side position marks are however elongated taking up the full space between the corresponding frets.





Neck

Set Neck heel AAA Flame Hard Maple. 251/2" scale length.

Body

Chambered body, with book matched Flame Jarrah drop top, and a book matched Black Cherry Back.

Fret Board

22 fret Gabon Ebony

Postion Marks
Side only, Abalone taking up the space between frets

Pickup

Sheptone zebra Humbuckers

Tuners

Schaller mini 3 & 3 tuners in chrome with ebony buttons

Bridge

Schaller wrap around stud mounted Bridge/Tailpiece

Nut

Bone

Controls

3-way toggle
dual push-series / pull-parallel / volume
Ebony knobs

Inlay

Head: "Dickert" logo in abalone
Neck: CF-104 in abalone centered at the 12th fret
ESPO in abalone at the 21th fret.
elongated side position marks in abalone.

Truss rod

Dual Rod two way adjustable at the head.

Finish

Murdoch's Uralkyd - 500 Gloss