Guitar #050
Stereo Tele Electric / Acoustic
Completed Nov 26, 1014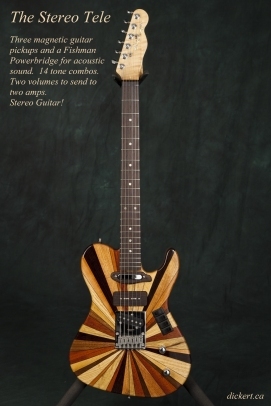 What do you get when you mix Magnetic and Pesio pickups? Shimmering tone throughout the entire band width is what. I am talking about stunning presence while playing those high notes, and thick bottom without sounding muddy! All the snap of a Tele and the fullness of an acoustic.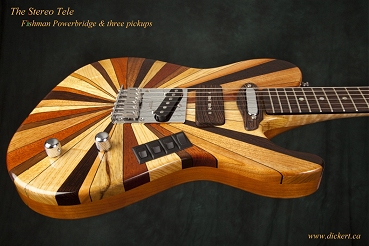 You're looking at three pickups but four switches. That fourth switch is for the Fishman Powerbridge. What that means is that the Tele style bridge has built in Pesio sensors that read the physical vibration of the strings and wood, unlike the magnetic pickups that read the vibrating strings through a magnetic field. As a result, this guitar has four sound sources, a Fender Tele style neck pickup, a Gibson style P-90 pickup placed in the middle, a Fender Tele style bridge pickup, all made by GFS (Wenge pickup ring and cover made by me), and a Fishman Powerbridge for acoustic sound. Further, by using ON/OFF rocker switches with three pickups, you can get 7 different combinations of tone, while the more standard five-way switch for three pickup short changes two of these tone combinations. Add to that, the Powerbridge, and you now get "times two" for fourteen tone combinations that can further be controlled with a separate volume allowing you to blend in any amount of acoustic tone to the magnetic, or do the opposite bleeding away almost all of the magnetic. Or – just shut off the magnetic altogether, and sound like a plugged-in acoustic.
Still with me? Not done. Through the use of a stereo Y cable, this guitar can be routed to two amps (one standard and one acoustic) while the amount of signal to each amp is controlled by the volume pots. Done.
Now to talk about the actual guitar. It's chambered – actually radically chambered so the guitar is very light weight, but more importantly, it opens up the sound for a more airy presence going towards an Archtop guitar (which is appropriate considering the acoustic bridge). The outline design is a modified Tele shape but with a narrower upper bout, and a narrower horn such that the space in the cut-a-way is still about the same size so you can get your hand in there. Getting your hand "in-there" is also a lot easier since the neck is NOT a bolt-on but, set, carved, and feathered into the body. The body end shape is slanted while a Tele is square, and the body also has a Strat style arm-rest and "fat-guy" concave belly.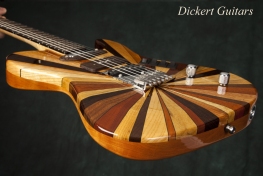 I know you guys know I love to talk about woods, so here goes. The neck is a fantastic quarter sawn section of AAA Flame Hard Maple. You could lay a a ruler along that grain. The fret board is Wenge, closely related to Rosewood but much harder with a deep dark chocolate colour with back accents. The back of the body is made of Black Cherry. The drop top is made of triangles of various woods, Wenge, Black Walnut, Butternut, Cherry, Mahogany, Black Locust, Limba, Swamp Ash, all outlined by a veneer of black died boxwood.
Showing the chambers during construction.