Guitar #039
"Lace-cut" American Sycamore back and sides, Bear Claw Sitka Spruce Round-shoulder Dreadnought V-cutaway
Completed July 12th, 2013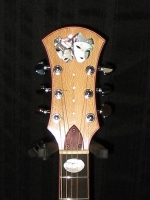 "Lace-cut" American Sycamore back and sides, Bear Claw Sitka Spruce top, Round- shoulder Dreadnought V-cutaway. But that's not all, added features also include a side sound port, and Purple Heart arm rest and trim.
The first thing you may notice about this guitar is that it is a bit of a departure from my usual designs, including a different Head Stock, Bridge, and the lack of the 22d fret projecting into the top sound hole. Yes, Lynn (that's the customer) did a bit of arm twisting, and since it's "her" custom guitar, and the guitar is to suit her vision, this is the final look. What you don't see is the smaller neck size to suit her playing style, and the 25" scale length. The head stock inlay is a recreation of a stained glass design first given to her from a family member. The softer curves of the instrument are repeated with the oval bridge, position marks, and the top of the head stock, pulling everything together. Nice job Lynn.
Next, lets start talking about the Bear Claw Sitka. This guitars top comes from Prince of Wales Island in Alaska US of A. It is AAA grade, and also showing a very nice Bear Claw pattern across the top. Bear claw is presented to the eye when there are small waves in the grain of the wood such that light is reflected at varying angles, giving a similar effect as Flame Maple. So not only is this a great sounding top, but it also looks like a million bucks.
Lace-cut Sycamore is an other way of saying "quartered" Sycamore. There are a number of woods around the world that when cut on the quarter, change their appearance. Their very wide medullary rays come into view, and give the look of lace fabrics. They are often sold as various "lace woods", thus quartered Sycamore is sometimes marketed as America Lace Wood. As stated in the right-up on previous Sycamore guitars on this web site, this wood is a great alternative to Honduran Mahogany, with similar tone.
Purple Heart is used for all the binding and other trim elements as well as the carved arm rest. Did I say that the carved arm-rest was a ton of work? "That arm rest was a ton of work"!!! But it makes the guitar way more "comfy" to play and the look of the grain is so much better than those stained versions other builders do.
The neck is a laminate of Flame Hard Maple down the middle, bordered by more Purple Heart, and the bulk in Sycamore. It incorporates a dual action truss rod, and two carbon rods for extra stiffness. As you can see from the photos, this design element is also carried though to the back of the guitar.