Title Home Work Bench Archive Bio/Contact/Links



Guitar #026
Solid Okoume top, back, and sides florentine cutaway dreadnought.
Completed Oct 26th, 2022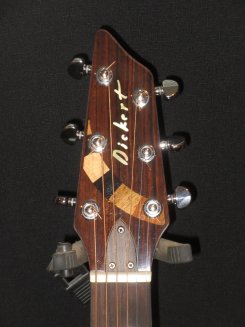 This guitar's tone has rich silky smooth bottom end, with shimering highs, and combined with very long sustain. Everyone who's played it so far notes the sustain among their first comments. The side sound port contributes to additional volume and projection.

The design of this guitar could be compared to some of the "all Mahogany" guitars out there, but substituting Okoume. Okoume is loosely related to Mahogany, with a similar grain, but much lighter in weight. This guitars body woods were cut from a single plank, to be bookmatched left to right and top to bottom. The Honduran Mahaogny neck includes two thin laminates of Okoume as well. This is an X-braced guitar, but also departs from standard with an asymmetrical X-braced back. The fret board, bridge, binding, plus the top and back head caps - are all

Macassar Ebony.
Click the photos to see a larger version.