Guitar #023
Randy's Acoustic Koa OO 12th fret Steel String
All Koa body and Koa Neck. Macassar Ebony Fretboard, Bridge, and trim.
#023
Completed Nov 22, 2008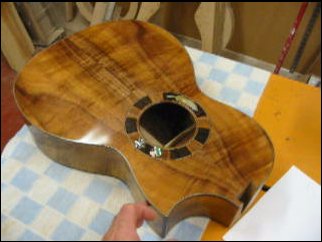 So what's the deal with Koa? Randy's father had the same question 20 years ago while doing business in Hawaii. He was impressed by the beauty of the wood. As a lover of wood, he collected a few boards over various trips to the islands and carried them back to Canada in his suitcases. He gave them to Randy who is a hobbyist wood worker, but the wood was so impressive, Randy was reluctant to make "just anything" from it.
So the deal with Koa is... it is a special tree to the Hawaiians and it's wood is used to make dug out canoes, tools, carving, and musical instruments. When the Hawaiians started building guitars locally after the introduction of the instrument during the beginning of the last century, it was Koa that they turned to, and it was Koa that defined the sound the first Hawaiian guitars (steel guitars), and ukuleles. The Hawaiian islands also happen to be the only place in the world that Koa grows. The tree has been deforested, meaning that Koa is fast becoming an endangered tree. As a result, the trade in Koa wood is on the verge of becoming restricted, and the price is being driven up due to it's demand and rarity. Not only does Koa make a superior instrument sonically, but it is at the top of the list of the most visually stunning woods available for instrument making.
Randy came to me with those 20 year old board. I got the opportunity to pick the best ones to create a guitar destined to be passed down in his family. "WOW" What a privilege!
This guitar is very unusual in a number of ways. Most Kao guitars have a Spruce or Cedar top. A lower percentage of them have a Koa top. This one has a Koa top successively cut from the same board as the back. So the back and the top are book-matched four ways! The standard neck on a Koa guitar is made of Mahogany, but this guitars neck is also Koa, as are the heel and tail block. Using Macassar Ebony for the fretboard, bridge, and all the trim, kept the look simple yet luxurious due to the added colour depth that this wood offers. We also designed this guitar with a cut-a-way which is a feature almost never found on a 12th fret guitar, and there is a sound port on the side of the guitar.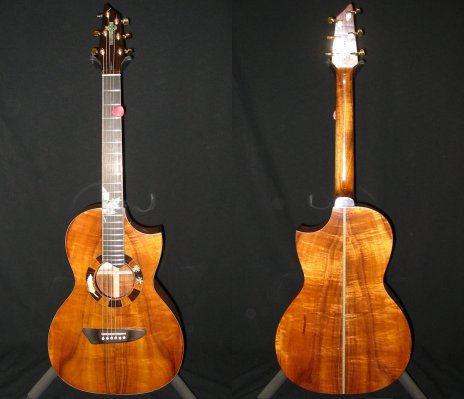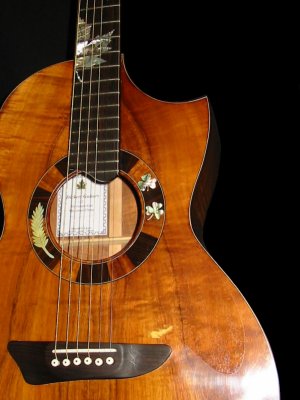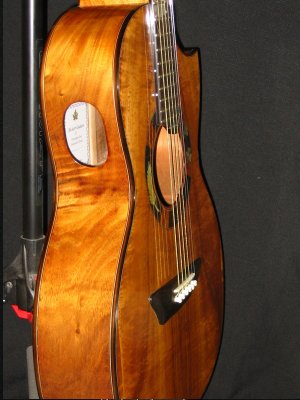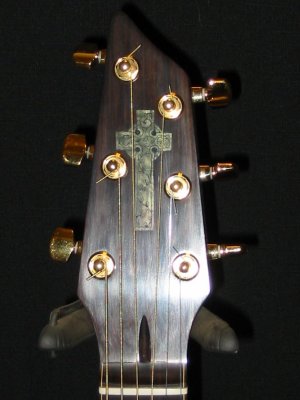 Top
Koa
Rosette
Koa and Maccaser
Bracing
Sitka Spruce
Back and sides
Koa
Backstrip
Black/Maple zipper
Body Binding
Macassar Ebony
Purfling
Macassar Ebony, Maple/Black
End graft
Macassar Ebony
Heal and Tail Blocks
Koa
Kerfed Lining
Mahogany
Neck
Two peace Koa
Head Cap
Macassar Ebony
Head Inlay
Celtic Cross
Neck heal cap
Macassar Ebony
Truss Rod
Twin rod two-way adjustable at head
Fret Board
Macassar Ebony
Position Marks
Abalone Dots Side Position marks. Half Silver Maple Leaf centered at the 12th fret.
Fret Board Binding
Macassar Ebony with Maple pin line
Bridge
Macassar Ebony
Bridge pins
Ebony with Abalone Dots
Bridge Saddle
TUSK, compensated for intonation, graduated for string thickness
Nut
TUSK, Graduated for string thickness
End pin
Ebony with Abalone dots
Tuners
Gold Schaller Mini 3 and 3
Finish
French Polished Shellac