Guitar #001
The HD 1 Double Neck 6/12
This is my first real guitar and the one responsible for getting me into this building thing. 12 string on the top neck and 6 string on the bottom. I started building it way back in high school when I worked in a shop making real working spinning wheels. The guitar was ready to finish and install the electronics, but I got second thoughts about the width of the necks. Being too cool for my own good, and wanting to have super thin necks, I went overboard and made them way too thin. The 6 string neck would have been ok but the 12 string would not have left enough space between the strings.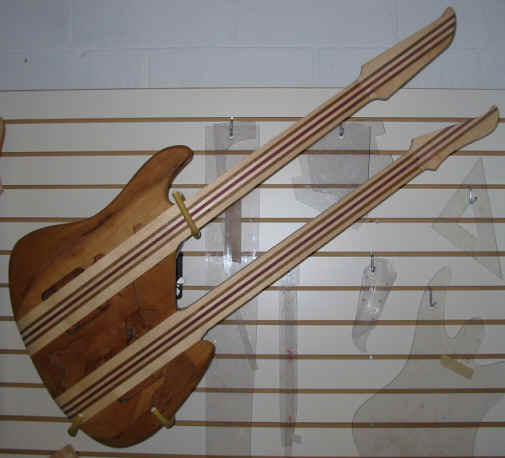 The answer was to split the neck and put in a wedge to widen it. I got as far as splitting it, but then left that job at the spinning wheel place along with all the equipment. I never had a place to work on the guitar again. No cash for tools, and not even the room for a work bench. I dragged it around (in two parts, along with the truss rods, switches, pickups, etc) from apartment to apartment and house to house. Fast forward 23 years. I met this wood worker Ray, so we start telling big fish stories over a few beers. "My wood working is bigger than yours" "Oh no it's not!" "You should see..." etc.
"He's got tools!" and offers to help me make a wedge and finish the guitar. I show him the guitar but by this time the necks are bowed good enough for archery. Can't do much with this guitar but cut the neck off and save the Cherry body components. So I cut the necks off, and saved the body components, and the heads.
I start taking measurements and start to wonder. Why did I design it this way. I got out the paper and pencil. Designed new necks to fit, now with a 25 1/2 inch scale length.
There happens to be a great exotic woods place here in Burlington, Called, what else, Burlington Exotic Woods. I went to them to get new blanks for new necks. But this time I ordered super stupendous exotic blanks, with Purple heart down the middle, then Hard Maple, then Walnut, and the bulk in Hard Maple. The old blanks were just ... Maple. When I put this all together I thought to myself at the time, "this should look great". One problem, I've still got no place to work on this guitar.
Fast forward another 3 years. I say to my wife, "To hell with the money". I'm finally earning enough now and can handle the bills, "I'm renting shop space". I started building all kinds of stuff but I hesitated going at this guitar until I got more experience. After all, after 26 years, I don't want to mess this thing up!
So now here we are in 2003, I cut out the neck, laminated them to the old Black Cherry body parts, and started carving. As the guitar is in this photo, I need to re-cut the pickup cavities, bridges, switches, etc. but I'm happy 'cause there's finally something to show for all these years and this thing is killer.