Home Guitar Store Work Bench Archive Bio/Contact/Links


Ya' Ya' Ya'... the woods is tooooo good to toss, yet it's too small, the wrong shape, or too weird a grain to build a guitar, any guitar!! :(
What to do? Door stops?! Na...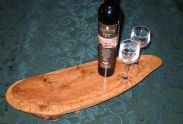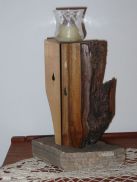 Don't want to burn it, sure don't want to toss it into the dump. Most of the scraps are exotic woods from all over the world, and way to beautiful (and expensive) to waste. Almost all of my effort go into the guitars since that's what I am into, but ... I can do... gifts for special people.
Here are a bunch of items I've made over the last few years that "aren't guitars". Click on any of these thumb nail images to see the item close up.