Windsurfing Downhaul Puller
Before you get power from your sail, you've got to get power to your downhaul line.
Better then the better mouse trap, faster than a speeding bullet, Easier than...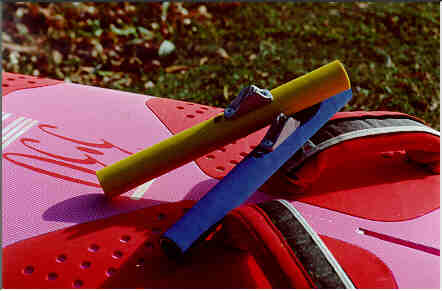 Introducing the HD windsurfing "Downhaul Puller", the rigging tool that makes light work of heavy downhaul loads. Slip your line through the fairlead, then across the metal cleat, and get BOTH HANDS on the E.V.A. rubber covered handle. Now you can pull like you've never been able to before.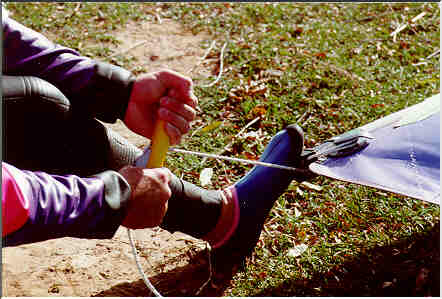 So you see, "rigging it right" wasn't that hard after all.
This downhaul puller is designed to take abuse.
Metal parts where it counts.
E.V.A. rubber covered handle provides the grip and feel boardsailers expect.
For more information, contact me at the following address or via e-mail at hd@dickert.ca
Harold Dickert, 6459 Cedar Springs Rd. P.O. Box 820 Kilbride, Ontario, Canada, L0P 1G0
phone 905 315-9779 or fax 905 315-8324
To order from within Canada or the United States, send a cheque or money order via snail mail (sorry, no credit cards accepted so far) in the amount of $22.50 plus $5.00 for shipping and handling.
---